minimally invasive
Gastric Sleeve

Weight Loss Surgery in Chicago

The Gastric Sleeve is a new and highly effective bariatric procedure that does not involve the rerouting of the digestive tract. Dr. Tiesenga is one of the most experienced gastric sleeve surgeons in Chicago. Schedule your appointment today to see if the gastric sleeve is right for you.

Schedule Appointment
What is the Gastric Sleeve?
How does it work
The sleeve gastrectomy, also known as the gastric sleeve, VSG surgery, and the lap sleeve, is a relatively tried and proven surgical procedure for individuals with morbid obesity. The sleeve has moderate risk when compared with gastric banding and gastric bypass procedures. As a restrictive procedure, the sleeve gastrectomy limits the food intake by stapling the stomach to make it narrower (in a shape of a "banana"), reducing the volume to about 100 – 200 ml. The unstapled portion of the stomach is then cut and removed.

This bariatric procedure is less invasive than the gastric bypass or the SIPS procedure as it does not involve the rerouting of the digestive tract. A bariatric surgeon performs this procedure, typically using the laparoscopic approach under general anesthesia. In the last decade, the gastric sleeve has been the most popular weight loss surgery performed according to the ASMBS (American Society for Metabolic and Bariatric Surgery).
Quick facts about Gastric Sleeve
Effective obesity treatment
Minimally invasive and typically done via the laparoscopic approach.
Quicker recovery compared to other more invasive bariatric surgery
Improvement or resolution of Type 2 diabetes as well as other comorbidities
Schedule Appointment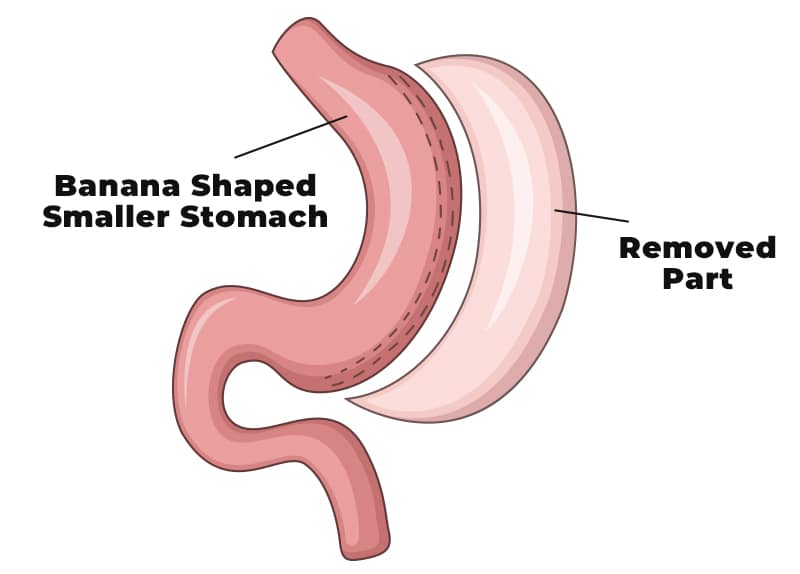 Who is the Gastric Sleeve for?
The gastric sleeve is for those who have struggled with obesity, and dieting and exercise alone has not been an effective measure to lose excess body weight. The gastric sleeve is also great for individuals who are constantly hungry. Research has shown that ghrelin is reduced, a hunger-stimulating hormone making it a bit more manageable to lose weight by further decreasing the hunger sensation.

The typical criteria for qualification of the gastric sleeve:


You BMI (body mass index) is 40 or More
Your BMI is 35 or more AND have a serious weight-related health problem such as type 2 diabetes, high blood pressure, sleep apnea, high cholesterol or other obesity-related co-morbidity
You are more than 100 lbs. over your ideal body weight.
Note that some bariatric surgeons may have additional or completely different eligibility criteria. For example, some surgeons may perform the surgery on lower BMI individuals, younger individuals, or may not perform gastric sleeve altogether on certain individuals who are over a certain age.

In addition to your surgeon, your insurance may also have specific eligibility criteria, such as a six-month supervised diet, which can differ from insurance to insurance company. It is always best to schedule an appointment to see a bariatric surgeon to see if the gastric sleeve is the best weight loss procedure for you. Also, when choosing a gastric sleeve surgeon, make sure that they have a comprehensive bariatric surgery program with a multidisciplinary team to ensure you lose the weight and keep it off long term.

Benefits of the Gastric Sleeve
The benefit of the gastric sleeve is that it has moderate risk compared to higher risk bariatric procedures such as SIPS, duodenal switch, and gastric bypass surgeries that are common for individuals with morbid obesity.

The sleeve also features significant weight loss comparable to other procedures while also curbing hunger as it interferes with your hunger hormone called ghrelin. Thus, this is why it has been very popular for individuals who are constantly hungry. Overall, the weight loss resulting from the sleeve helps improve one's quality of life.

According to long term study of the gastric sleeve, excess weight loss of 60-70% has been recorded by the end of the first year of surgery.

Excess weight loss that results from having gastric sleeve surgery has been shown to improve several comorbidities. Here is a list of disorders that are caused or made worse by obesity:

This procedure is done most of the time endoscopically. It does not reroute your digestive tract or involve having foreign objects implanted in your body as other surgical weight loss options have. You also don't have to deal with adjustments or band fills as you do with the gastric band. Also, dumping syndrome is not common with the gastric sleeve like it is with other procedures such as gastric bypass.

Insurance may also cover this bariatric procedure which can lower the overall cost of the surgery. It is best to contact your insurance company or employer to see if you have bariatric coverage. We make it easy to check if you have bariatric coverage. Verify your bariatric insurance benefits online.
recommended read
Want to learn more about the gastric sleeve?

Dr. Tiesenga, one of our Chicago bariatric surgeons, has release a new book titled:

"The Gastric Sleeve Simplified: What you need to know about gastric sleeve surgery + over 50 bariatric friendly recipes."

Get your copy today at Amazon. Available as a paper back and well as a Kindle version by clicking the Amazon button below.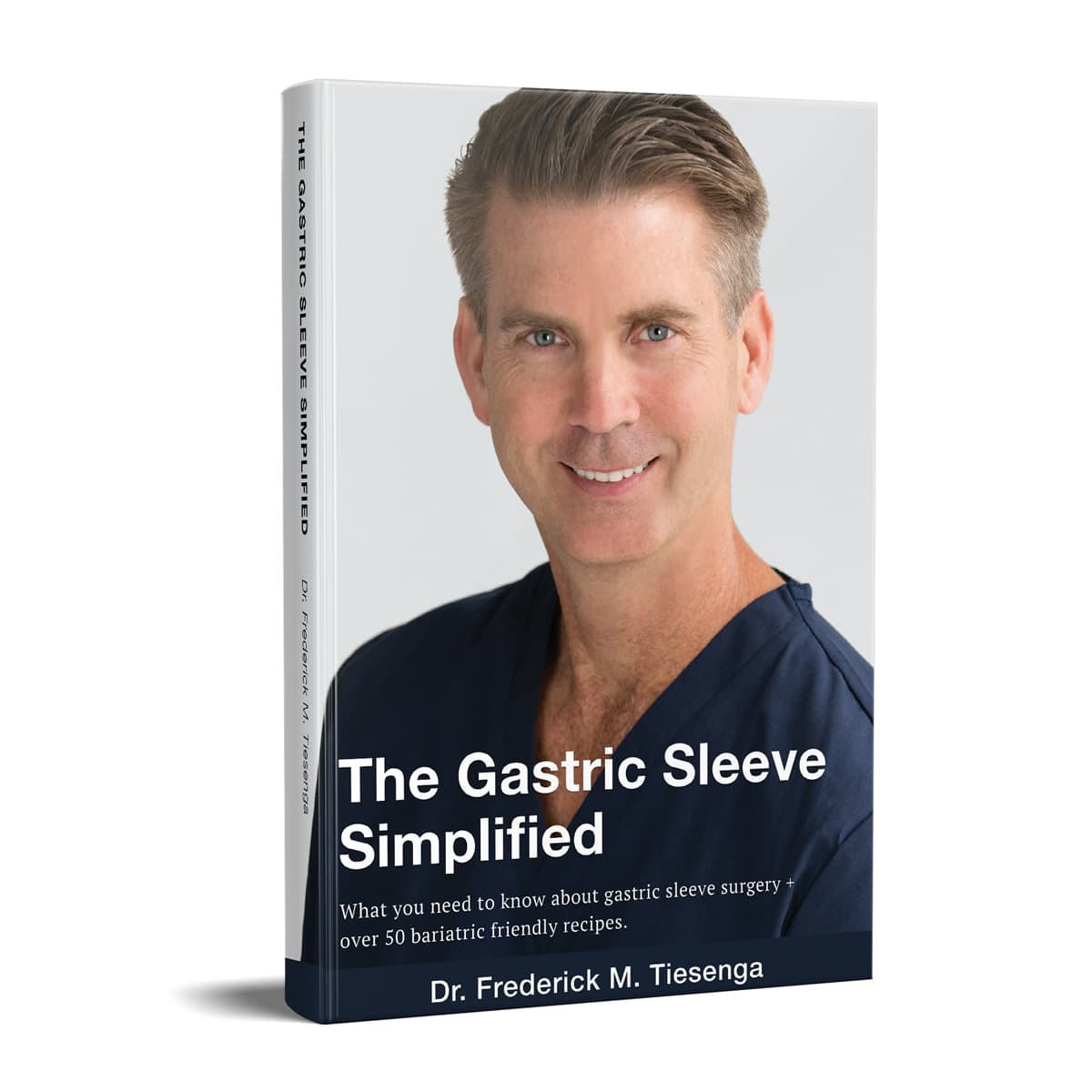 Frequently Asked Questions About Gastric Sleeve (FAQs)
How Long Do I Need To Stay In Hospital?
Typically, 1 – 2 day hospital stay is observed after a sleeve gastrectomy. However, sometimes the patients are required to stay longer if clinically necessary.

How much weight to expect to lose with gastric sleeve surgery?

Studies have shown an excess weight loss of 60-70% by the end of the first year of surgery. Note that everyone's results will be different and some may have greater or lower weight loss than others. The gastric sleeve is a long term surgical weight loss procedure.

Is the gastric sleeve minor surgery?
Gastric sleeve is considered major surgery but is relatively safe compared to other surgeries. A mortality rate of 0.8% has been recorded.


Does insurance cover the gastric sleeve surgery?
Yes, many insurance companies do cover the gastric sleeve if you have bariatric benefits. Call you insurance company or contact us to verify if you have bariatric coverage.

How much does the gastric sleeve cost?
The total cash pay for the gastric sleeve at our Chicago location is $14,000. Please note that we have partnered with 3rd parties to offer flexible payment plans. Also check to see if your health insurance covers this procedure as it is one of the most common bariatric procedures that is covered by insurance.

When Do I Start My First Post Surgery Appointment?
A New Hope Surgical Coordinator will set up the time for your first follow up after the surgery to meet the doctor and dietician within 1-2 weeks after surgery.

How Frequently Do I Need To Follow Up After The Gastric Sleeve Procedure?
We feel that a monthly follow up is a crucial component of successful long-term weight loss. Monthly follow ups continue until you reach your weight loss goal.

Am I Able To Drive After Surgery?
Having weight loss surgery should not limit your daily activities. In fact, you could do more things that you could not do before. As for driving, most patients can drive two weeks after surgery.

How Much Food Can I Eat?
After about 6 weeks, you will be able to eat between ½ – 1 cup of soft food. There are stages that your nutritionist will guide you through your healthy lifestyle journey.

Can The Gastric Sleeve Surgery Be Reversed?
No. Gastric Sleeve procedure is permanent and non- reversible, which involves the removal of a large part of the stomach.

What are the contraindications for the gastric sleeve?
Contraindications, or specific conditions that you may have that may disqualify you from having the gastric sleeve may include:

• Severe heart failure
• Unstable coronary artery disease
• End-stage lung disease
• Active cancer treatment
• Portal hypertension
• Drug or alcohol abuse
• Very low pain tolerance
• Impaired intellectual capacity
• Untreated Depression
• Certain psychological disorders
• Severe gastroesophageal reflux disease (GERD)
• Barrett's esophagus
• Inability to tolerate general anesthesia
• Uncontrollable coagulopathy (bleeding disorder)
• Any disease that makes you a poor candidate for surgery

Talk to your doctor to see if you are able to have the gastric sleeve

Are There Any Risks or Complications With Gastric Sleeve Surgery?
As with any surgery, there are risks involved. The gastric sleeve is a tool and not a magic pill, if not used properly, it may fail. Some complications related to the gastric sleeve may include leaks, stricture, dumping syndrome, GERD, vitamin deficiencies, blood clots, and death. Talk to your doctor for the full list and how each risk may impact your outcome.

Would you need plastic surgery after excess weight loss?
Some patients may want a body lift or plastic surgery to help with the excess skin resulting from significant weight loss.

Schedule Appointment